Trainer Portal
Never say goodbye to your Students!
OUR GOAL HERE
is to help Trainers stay connected to their Students through homework, and to influence their practice results so they progress to the next level of training.
Never say goodbye to your Students!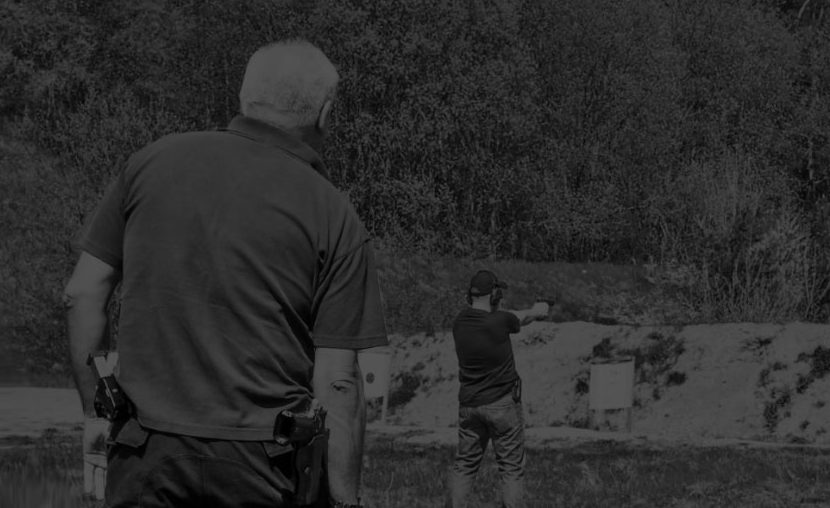 THIS PORTAL PRESENTS
how Trainer's are using HandgunDrills.com products and website together to help a Student practice between Training classes or sessions, to extend their instruction of proper technique throughout the Student's periods of practice. 
Welcome to the Trainer Portal
There are many reasons to stay connected to your Students after training class is over. This is a Win-Win opportunity as you can continue to help and influence your Students to excel at building their knowledge and skills, and this in turn can build your business in new and creative ways.
Some established Trainers have a fully developed curriculum, but others are just getting started and need to develop and settle on their classes and curriculum. Many of the drills in our Library are from well know Trainers and are quite popular. These drills can be used as training curriculum, and as a complement to training, as practice homework. The drills for homework can be completely different from training and can be selected with the specific attributes to focus on building the same skills the Students learned in class.
So here are a few ideas for your consideration that are currently used by Trainers. These ideas are presented in the appropriate steps of the well known 4 step PDCA Continuous Improvement cycle.
The Trainer Influenced – Student Practice Cycle
Applying the Plan-Do-Check-Act (PDCA) Continuous Improvement Process to Student Practice with Trainer Influence.
This diagram represents how the Trainer may influence the Student throughout the 4 step practice cycle through the use of "homework" and periodic communication.
While there are many creative ways for this to happen, the basic way this could work is listed below.  An example of homework could be 2-3 drills to shoot. Live fire is assumed but dry fire could be included.
ACT – The Student is given homework at the end of training class that is representative of the skills and goals the trainer wants the Student to work on. An extension of training if you will. Ideally, schedule the next training class or session at this time.

PLAN – The Student decides when and what to practice (homework).
DO – The Student goes to the range and practices the drills, records the results.
CHECK – The Student and evaluates the outcomes of the practice. After several practices, the Student contacts the Trainer and reviews the results and take-aways from the practice(s).
ACT – The Trainer provides feedback and assigns new homework for the Student to continue to improve. The Student is ready for their next lesson or are ready to sign up for the next level of training.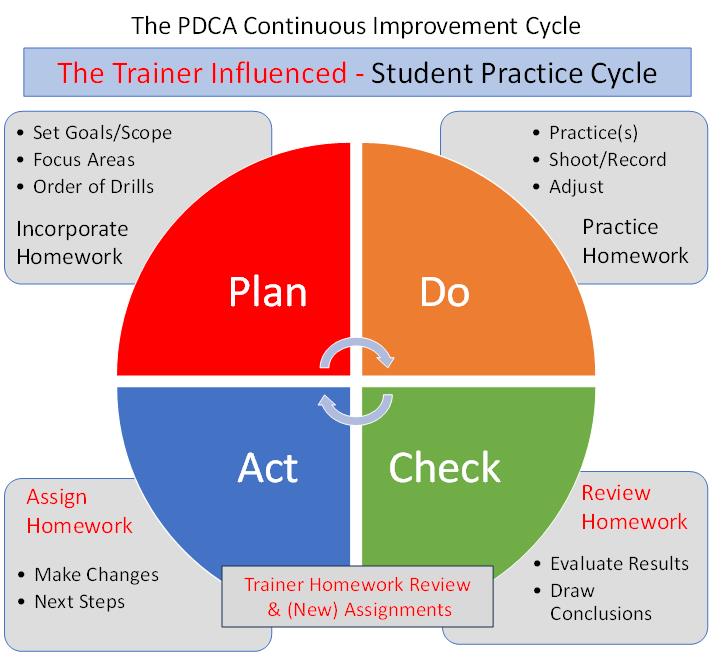 How can Drill Cards help me develop or expand my curriculum?
Augment your curriculum and provide homework assignments to Students until you have time to fully develop your portfolio of classes and associated curricula.
Include some specific drills from great Trainers as part of your permanent class curriculum.
Can I offer the Concealed Carry Book of Drills after classes?
Yes. Purchase 6 or more of the First or Second Edition Concealed Carry Book of Drills, at wholesale cost plus shipping, and make them available for purchase to your students or at your range.
This provides the students a huge selection of drills to practice as follow-up and gives the Trainer the ability to communicate entire drill instructions and shooting standards with a simple number.
Standardized drill card format provides for fast and efficient communication of assignments and student shooting results on the phone, emails or video conferences.
How do I make homework from Drill Cards that are based on different classes I teach?
Provide Practice Packs as Homework – Select and purchase Drill Cards that allow you to provide "Homework" to your students after class.
These are typically an envelope with 3 cards or "Practice Packs" with drills that are similar or exactly what was run in class.
This gives the students something in their hands to take how and give the Trainer a reason to follow up.
Add other advertising items in the envelope from you, your range or other sources as promotions.
Use the website Drill Card filter to select the combination of drill attributes will use the skills taught in class. Select from those drills for "homework" to give your Students at the end of class.
How can I cut down on the amount of time I spend explaining new drills to my Students and deciphering their results, since I would rather spend that time training them?
Assign any HandgunDrills.com drill with the drill number and the student can review and learn the drill in the Store-Library for free.
Little or no time is required by the Trainer to explain the whole drill and how to shoot it. They are fully explained and easy to read with the standard format.
Is there a way to let people know I am available as a Trainer or even exist on the website?
Free Listing – List your Training business on our Trainer Directory for free.

Students will search, see your location, credentials and curriculum, and be connected directly to your website.

Free Advertising – Provide a drill to be added to the HandgunDrill.com Store-Library as a Drill Card.
How do I submit a drill to be added to HandgunDrills.com?
It's simple. Just contact us and we will discuss the details with you and confirm some qualifying questions. There is no cost to submit and have a drill added.
I work at a Range and would like to know about offering HandgunDrills.com products there and use them in activities and events. How would this work?
We provide books at wholesale prices for ranges to offer at retail.
Create activities, events and competitions using Drill Cards is easy and fun, since the cards are self-explanatory and can be selected by drill attributes. A couple of example ideas are:
Tactical Tuesday (weekly class).
Drill of the Week/Month or Skill of the Week/Month.
Use Drill Cards at the range to promote shooting activities and friendly competitions and create fun and engagement.
Is it possible to create a Custom Practice Pack of Drill Cards such as the one Dave Spaulding sells?
Create a Custom Practice Pack with a specific purpose with Drill Cards with a Practice Card for each drill.
Practice Cards are one card per drill that explains the origin, purpose, tips on shooting and any points in the Trainer's own words.
Practice Packs are designed and edited by HandgunDrills.com for free, all content is provided and approved by the Trainer.
These are sold in sets (typically 6 – 12 drills) by the Trainer at the end of each class and on the Trainer's website.
The individual Drill Cards will be sold on HandgunDrills.com so Customers can refill.
If desired, the Custom Practice Packs may be sold on HandgunDrill.com as well. (A commission will be paid to the Trainer).
Please contact us to discuss your idea. This effort is at no cost; however, the projected level of sales is important to confirm its worth the investment by all parties.