Practice with a purpose, what you learn in training,
from where you are, with the resources you have.

Practice Tools and Community
Previously Burnett Live Fire Drill Cards
For information on LFDC Drill Cards and Targets in quantity at 50% off while they last please send us a note through the Contact tab. Thanks.
You may have noticed that Live Fire Drill Cards has been down for a while. We began a major improvement to the product and website about a year ago. This decision was a culmination of about 5 years of listening to our Customers feedback and a need for rebranding and product simplification. We also wanted to make new ways for Students to track their results and for Trainers to freely advertise through Drill Cards and the website more directly.
I had no idea the challenges we would face but it is what it is at this point. We are moving forward.
During the initial launch of Handgundrills.com we are offering our Customers whatever remaining LFDC Drill Cards and printable targets at half price while they last.
Just email me at steve@handgundrills.com with a specific order or to ask a general question and I will contact you to help in any way I can.
Thanks for understanding and I hope you like the new streamlined products and website.
Steve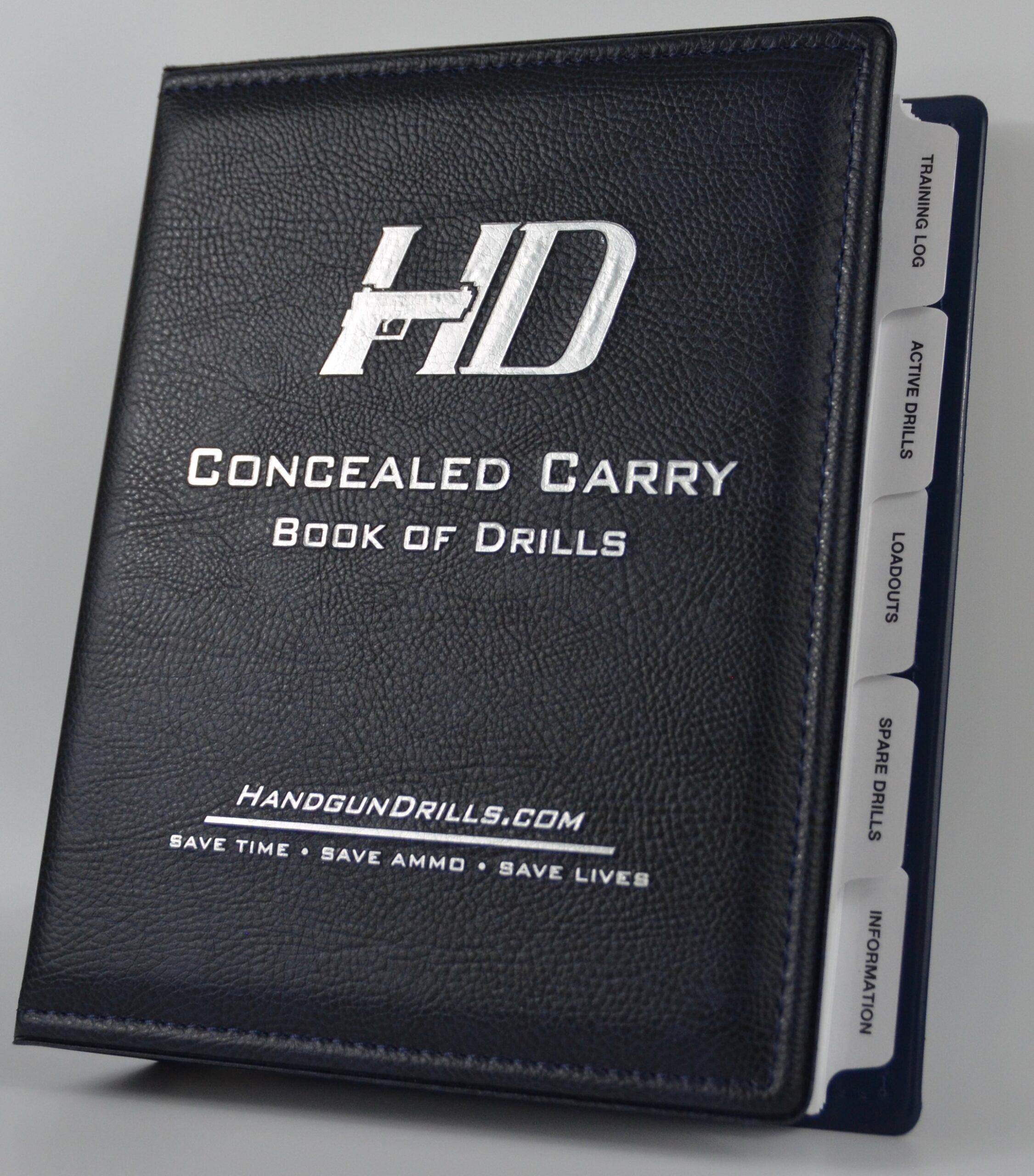 Time is scarce. Ammo is expensive. And practice takes both.
The Concealed Carry Book of Drills has a large collection of popular drills to select from to save you both time and ammo. The drill cards are formatted to help you select the right drills for right now, learn them quickly, track your results, and get the most out of your ammo. And the soft, half size leatherette binder easily fits into most range bags so its always there at the ready.
"And, every course tells them at the end to "Practice, Train." But the question is "How?" However, few options exist to structure their training. Your system provides such a framework for all these situations. Your system allows documentation of the range time both statistically with the Drill Card and subjectively with the Training Log where they can sum up the experience in their own words."
"I like throwing lead down range as much as anybody. But while this is fun and can serve as a needed release at times, the primary purpose of live-fire range time is to work on improving our gun handling/shooting skills.
To do this requires a plan with structure and purpose. That's where your cards come in. I can plan out my entire range session which helps optimize every minute spent at the firing line. I can ensure that I'm working on a variety of skills rather than merely falling back on those that I'm better at and thus require less emphasis.
The cards allow me to track my progress to whatever level of detail I desire to provide feedback and direct me to drills that continue to hone skills where work is most needed. An added bonus is I can use many of these drills in my dry-fire practice at home as well using my laser trainer and other methods.
I have invested thousands of dollars over the years on firearms, shooting accessories, range memberships, and ammo. The Live Fire Drill Cards are by far the best investment I've made that help me best utilize of all of those resources. Most important of all, using this system is helping to make me a better shooter."
Looking for resources to use with your students? Let's talk.
"This program is an extremely comprehensive and yet simple approach to improving your shooting skills. What is measured can be improved and in the process you will go to the range with a plan and have more fun shooting better and faster!" - Jacob Paulsen President, Concealed Carry, Inc.
"When it comes to firearms training as well as range practice, the important balance of accuracy and speed are frequently difficult to achieve and/or maintain. Handgundrills.com is the perfect solution for organizing, documenting, tracking and improving these fundamental skills. The Tactical Intelligence Group, and its Lead Instructors, are very happy to lend this product our enthusiastic endorsement." -Tactical Intelligence Group, Cleves, Ohio (Now IMPACT range)
"I think anyone that goes to the range should have a purpose in going. This gives you that purpose." - Glen B.
"It was very convenient for organizing my performance of drills, which in turn makes me focus on my time at the range. Less time standing there thinking about what to do next." - Shaun F.
"Great curriculum for trainers." - Jim L., Range General Manager and NRA Certified Firearms Instructor
"Everything you need documented to help improve is right there". – Rob S., Professional Trainer
"By repeating the timed drills it became obvious that I needed to slow down just a little to improve my accuracy, but just a little. And by doing so my grouping improved and I was still able to do it in the allotted times." – Brian K.
"I love the drill cards." - Shawn P.
"Best part is encouragement to try various options." - Paul C.
"Love the variety and structure offered". – Justin F., Professional Trainer
"I got a lot of insight into a variety of new drills and learned a lot along the way." - Josh B.
"I love the size, as at most ranges you don't have a lot of room to use things like this. I think it's clear, concise and gets to the point." - Brian B.
"It's very simple." - Greg R., Professional Trainer
"The drill cards are great and easy to understand; the binder helped me stay organized." - Michael B.
"The drills are well thought out and very well presented. I had no questions as to what I was to do or how to carry it out." – David D.
"Organized, documentable, and repeatable. Much easier for new/intermediate shooters to understand and implement." - Bo S., NRA Certified Firearms Instructor
"So simple and straightforward. I also really like the build quality of the product. It is very well made and more durable than I expected." – Ken B.